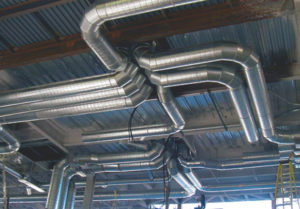 Ductwork when neglected can contribute to poor indoor air quality and to some extent HVAC inefficiency. Because of its out of sight positioning, the ductwork is often forgotten and before you realize, it has gotten clogged and quietly impacting negatively on your health and your system efficiency. Whenever ducts become contaminated with mold, dirt, or other pollutants, homeowners need to take a number of steps to ensure these contamination are cleared off.
Why Take Preventive Actions
As always, prevention is better than cure. By taking preventive measures, problems with the ducts can be sighted earlier enough and this makes solving them a breeze and can save you lots of money. Professionals with the right equipment and expertise can get the job done right the first time. Duct problems often lead to serious health complications particularly where mold and other biological contaminants make your ductwork a home. These contaminants can significantly degrade the indoor air quality giving rise to problems such as asthma and allergies.
The Steps to Clean and Healthy Ducts
It is very important that you follow recommended practices to avoid contamination of your ductwork. The little time, money, and effort you spend upfront can pay big in terms of quality indoor air and efficient HVAC systems. According to the National Institute of Health, the following are some of the steps you should take in solving ductwork problems.
Scheduled HVAC Preventive Maintenance
Usually, HVAC professionals who undertake scheduled maintenance of the HVAC systems either semi-annually or annually can help clean dirt, mold, and other debris. This means these pollutants won't get into your ductwork and affect your indoor air. The technicians may also check refrigerant charge and clean the coils together with lots of other practices that contribute to a clean ductwork.
Sealing of Ducts during Renovations
When a building contractor is undertaking a renovation project, it is important the ductwork is sealed to prevent construction byproducts and pollutants such as sawdust from getting into the system and contaminating it.
Cleaning of Ductwork after Installation or Retrofitting
It is important for the technicians to clean the ductwork following its installation into a new home or retrofitting into an existing one. This should be done before the HVAC equipment is run. New ductwork usually contains quite an amount of debris and oil which if not removed can contaminate your equipment.
Regular Ductwork Inspections
According to the National Air Duct Cleaners Association, ductwork ought to be inspected from time to time by qualified professionals to check for any obstruction as well as dirt and dust buildup. This can help keep your ductwork clean always.
If you have any concerns on possible contamination of your ductwork, you should get professional advice before the problem grows and becomes costly both in terms of your health and wallet.